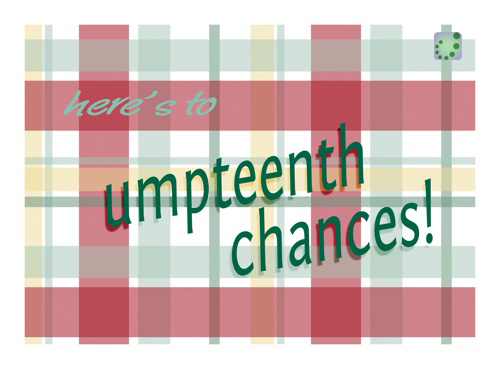 I can't remember how many times I've had to start my life over again, but I'm thankful I've always seemed to have this choice. Once again, on Monday, I'm at it again. Here's to umpteenth chances, and hoping this one sticks (with help from the good luck of plaid: a theory of mine I finally am going to field test).
I created the plaid myself but the entire process would have been much easier if I had bothered to read this
nice tutorial
from
Colorburned
. Perhaps next time. I figure I'll need more of plaid's innate good luck in the future.
As an aside, I wasn't actually sure
umpteenth
was a word, but it is there,
in the dictionary
, meaning pretty much what you'd guess it would mean:
ump⋅teenth
– adjective Informal.
of an indefinitely large number in succession: He was the umpteenth person to arrive.
colours
: created this little palette