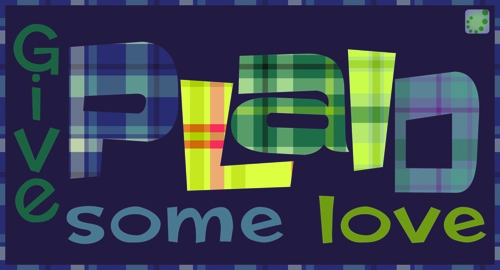 When my
Definitely To Do List
runs onto three pages of my steno pad, I understand that this is the appropriate time to be wondering why I haven't created enough plaid designs. I always wanted to be a fabric designer (Is this a weird ambition for a child?), my
plaid brings luck
theory seems more true than not, and that
plaid balloon
made me so happy, who wouldn't make time for more plaid? Obviously, it would be crazy not to create plaid.
And to attempt to convince myself even more that this isn't an odd way to spend a Friday afternoon, I decided to throw those wondrous plaids on a
tee
, now available for purchase over at redbubble so you to can enjoy the happiness and awesome luck that plaid bestows on its admirers. :o)
purchase
:
give plaid some love
on red bubble
tutorial
: linked before, but deserving another mention are the Colorburned tuts,
Burberry Style Plaid
and
Burberry Style Plaid II
Now go cover the world in plaid!