When I find the time (which is rare lately) I'm finding inspiration all over the internet > reading blogs, following artists on
redbubble
,
flickr
and
facebook
, just stumbling across interesting images. I used to collect faves on all these sites and even had random folders on my computer with collections of images. But I never could remember what I'd found, where it was or why I'd bookmarked, saved or faved various images.
All this inspirational confusion led me to
Zootool
, a site for collecting all your favourite images, web site, videos, etc. in one handy place, with the ability to describe, tag and organize them.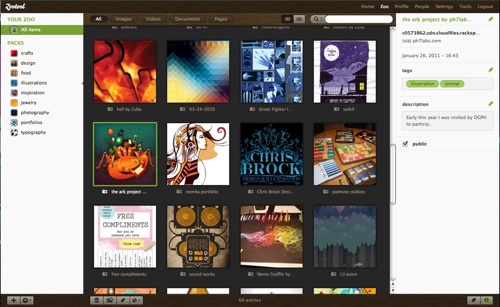 [a screen shot of my zoo; click for larger view]
I've been using it for a short while now and I've been very pleased with the results. It's easy to set up an account and start saving images with the provided tools. Organizing and searching is straight forward. And now I have just one site to visit when I'm looking for some inspiration.
If you happen to be visiting you can stop by my profile >
sabrina card on Zootool